The 1968 Sears Christmas Wish Book perfectly captures the zeitgeist of late '60s mainstream America. All the fashions, toys, and gifts shown were pretty much what everyone wanted to wear, play with, or receive as gifts. It was the Amazon of my childhood. I've written several blog posts featuring items from this particular catalog, and I could probably write a hundred more considering the font of information it contains. But today I am going to concentrate on the hot fashion fad of 1968: Nehru Style. The Nehru jacket, with its stand-up Mandarin collar, became popular with the minimalist Mod style in the late 1960s. The Beatles, the Monkees, and several James Bond villains popularized the jacket. As you can see here, Sears pounced on the Nehru craze with groovy fashions for men, women, teens, and children.
This is probably the most classic Nehru jacket for men, "Tailored in the East Indian tradition". In cotton suede cloth or corduroy, you were sure to look uber snazzy…especially when paired with a turtleneck shirt and medallion necklace.
"Sears tunes-in on the meditation themes and styles" for this Nehru shirt.  Also worn with a turtleneck and medallion necklace for that far out look.
Nehru collar Cardigan in 100% Acrilan. Wow.
Women could sport the look in this Nehru Tunic – a screen print in double-knit acetate. Worn with stretch pants and mod go-go boots, of course.
Nehru style collar on this crunchy souffle stitch Orlon cardigan sweater.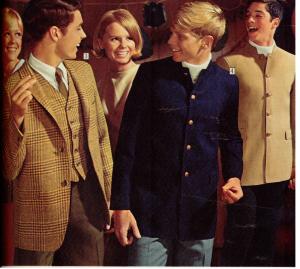 Teen boys could wear the Nehru sport coat that "swings with the new-right-now fashion beat".
You could also get an Oxford cloth Nehru shirt in all kinds of groovy colors.
But perhaps the best look of all is the boys natty white Nehru jacket. How adorable is this? 😀
~Marilyn