I've been a subscriber to Birchbox for almost two years now, and delight each month in getting that box filled with cosmetic samples delivered. What can I say? I've been a beauty aid junkie since the late '60s. And when cosmetics come in sample sizes, all the better!  I think this sample-size mania started for me when I was a teenager. Since I was an avid teen fashion magazine reader, I was especially engrossed by the advertisements. I loved when companies had special mail-in offers -so enticing! Of course you had to mail in the clipped coupon with your 50 cents or one dollar, and then wait five weeks for delivery; there was a lot of waiting around with resigned anticipation. Definitely not much instant gratification back then. But when the samples finally arrived it was fantastic! Kind of like the little thrill I get to this day when my monthly Birchbox arrives.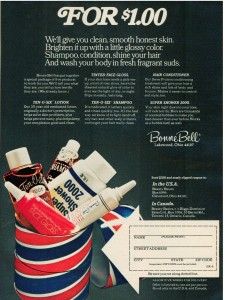 In the late '60s and early '70s, Bonne Bell was pretty much the only company that offered a selection of sample sizes that you could order for $1.00. In fact I'm going to go out on a limb and say that they invented the product sampler pack. In this particular ad, the sampler kit contained Ten-O-Six lotion, Tinted Face Gloss, Ten-O-Six Shampoo, Hair Conditioner, and Super Shower 2000. I remember in other kits they contained Bonne Bell Lipstick and the (ubiquitous) White White eyeshadow. I know because I ordered several over the years. I can still remember twisting open that red, white and blue canister and catching a whiff of the signature scent of Ten-O-Six Lotion.
Speaking of which, Ten-O-Six lotion pretty much ruled the skin care market during those years. "Skin – Let it be honest". I remember washing my face with soap (Neutrogena, Cuticura, or PhiSoHex), and then pouring Ten-O-Six lotion on a cotton ball and scrubbing my face till it stung. Gawd that stuff was strong. And to add insult to injury, the label said to use it a second time with a new cotton ball until the cotton ball was absolutely clean. It was almost pure alcohol, with a tantalizing scent that made it seem like it was doing something. Looking back, no wonder I had trouble with my skin! I think I scrubbed it raw.
One interesting fact about '70s Bonne Bell advertisements was that they often featured Bonne Bell's daughter, Julie Bell. Julie was a natural beauty in her own right and seemed to be a perfect fit to showcase her family's products. A little nepotism never hurt anyone I guess. Julie almost seemed shy and brooding in the ads, which appealed to most of us also shy and brooding teenagers. She had killer cheekbones though – and good skin – which caused a certain amount of envy (at least in me). That, and her having free access to any and all Bonne Bell products. It's the beauty aid junkie in me. 🙂
~Marilyn