After searching for Yardley of London ads in my Seventeen magazines, I noticed a couple of ads from the 70s issues for Mary Quant Cosmetics Ltd. I had almost completely forgotten that Mary Quant, mod British designer of the miniskirt, produced a line of makeup as well. I remember trying a couple of her products (with the trademark mod daisy logo), but I was not completely enthralled by them as I was with Yardley's.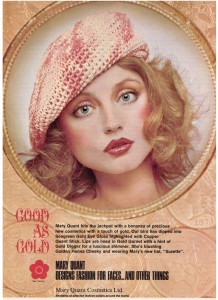 This is a really cool ad from March 1975 for MQ's Good as Gold line. The model, Ingrid Boulting, has a real Biba-esque vibe going on. With huge eyes, cupid bow lips and golden curls, she just exudes the British Dolly look that was huge at the time. This particular makeup line of eye glosses, lipsticks and cheek color all had touches of gold, copper and henna for that 'luscious shimmer'. Even the ombre pink crocheted "Suzette" hat was by Mary Quant. It is adorable!
This Mary Quant Jelly Babies ad is from June 1973, and has a decidedly beachy theme. Jelly Babies was a gel makeup line that was supposed to stay on while swimming, water skiing, or even a walk in the rain. It was supposed to give you a look 'as natural as Nature itself'. Essentially a mixture of colour and moisture, it promised to smooth on easily and not dry until you've had plenty of time to blend. And, once on, it stays in place, without smudging and creasing all day. I vaguely remember trying this product briefly, with not such good results. Gels were hard for me to work with and I was usually looking for something to cover my zits, which a sheer gel decidedly did not do!
~Marilyn