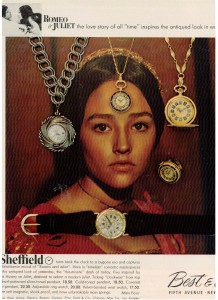 I finally found an ad where the ravishing Olivia Hussey is not hawking Yardley of London makeup.  This 1968 advertisement both advertises the Franco Zeffirelli film, Romeo and Juliet, and Sheffield watches.  The antiqued-look watches "capture the Renaissance mood of Romeo and Juliet".  I guess more than one company was able to bank off the success of the film, and the beauty of Olivia.
The watches are actually quite lovely and unique, being an assortment of pendant, ring and wrist watches.  The picture of Olivia as Juliet looks like it is a still from the movie.  Wow, SCORE, Olivia; you didn't even have to do a separate modeling session for the ad!
I know I've said it many times, but I really adore the romantic, mysterious era of the late 60s.  I think we are long-overdue for a resurgence!
~Marilyn