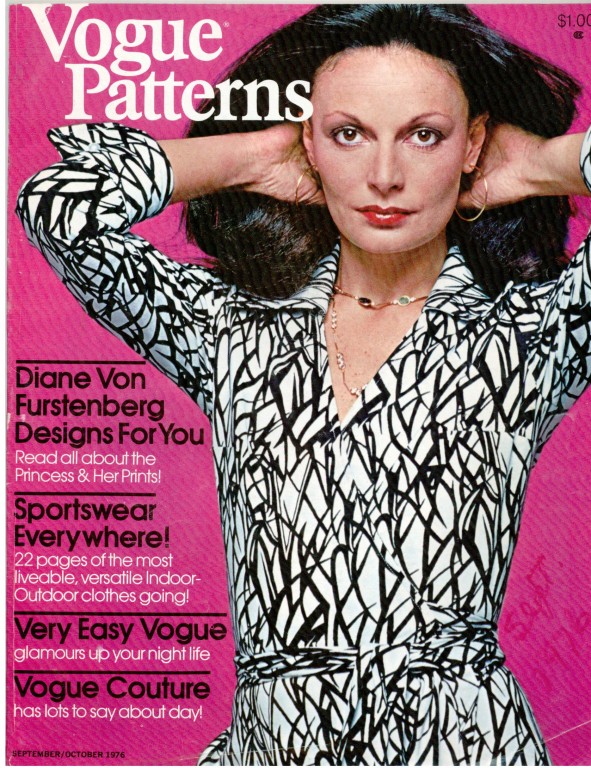 The iconic Diane von Furstenberg wrap dress remains a classic to this day, and is just as fresh and bold as it when it debuted in the 1970s.  I ran across this September/October 1976 issue of Vogue Patterns magazine at Goodwill yesterday, with a striking pose of the fabulous Diane von Furstenberg on the cover.  Of course, being a huge DVF fan through the years, I snapped it up as quickly as I could.
The article ("The Princess and Her Prints") tells the now well-known tale of how the newly-married (to Prussian Prince Egon von Furstenberg) Princess
showed three dresses that she had designed to Diana Vreeland, then Vogue's editor-in-chief.  One of the dresses was featured in Vogue magazine in 1970, and that, with a $30,000 investment, was the start of her dress empire.
Being a teenager in the early 70s, I remember the sartorial splash that the DVF wrap dress generated.  At the time, I was really into wearing Betsey Johnson, Kenzo, and the like;  I felt like the wrap dress was more suited to "older" women — you know, like those in their 20s and 30s (ha!), so I never wore one then.  Plus the fact that I remember the cost of the DVF wrap dress as being way beyond my teenaged babysitting budget.
The really cool thing is that Vogue patterns made the wrap dress pattern in 1976 (Very Easy Vogue pattern #1548).  You could make up your own dress in the classic bamboo, dalmation, geometric and floral DVF  knit fabrics by Cohama.
Pattern #1548 is still kicking around.  You can find it on eBay from time to time, usually bid up to a high amount, it's very popular.  I've had the luck of finding several Vogue #1548's over the years and, since I don't sew, sold them on eBay to very happy buyers.
The DVF wrap dress continues to be in the news.  Republican Ann Romney was shown recently wearing a vivid DVF wrap dress.  Since Diane von Furstenberg is die-hard Democrat, I don't know how she felt about that.  But lets hope the wrap dress will remain bipartisan!
"Feel like a woman, wear a dress!" ~ Diane von Furstenberg
-Marilyn Huttunen