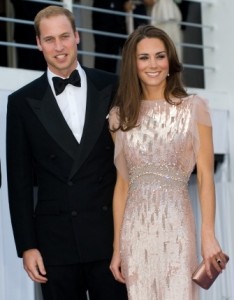 I had to smile when I read that Kate Middleton was seen at the British  high-street beauty store Boots, last week.  It was before attending a charity gala dinner at Kensington palace; the one where she wore the gorgeous sparkly pale pink sequined gown by Jenny Packam.
It turns out our Kate was buying Nivea moisturizer.  Yes, that same basic tried-and-true moisturizer that has been the staple of many a woman throughout the years.  I just love this!  Well, other than the fact that it will probably be hard to find Nivea moisturizer from here on out, that is!
It's rather refreshing that Kate's beautiful English complexion is owed, in part, to a basic beauty product that is available and affordable to us all.  She could afford any expensive luxury beauty product, but opts to buy a moisturizer that she has probably used most of her life.
The smell of Nivea moisturizer will forever be a poignant reminder of England for me.  Several decades ago, in my more hippie/alternative years, I backpacked and camped out throughout Europe and the UK.  I can remember buying Nivea moisturizer at Boots (a store that I was completely enamored with), and slathering it on while inhaling the delicately intoxicating scent.  It was a delightfully feminine indulgence in an otherwise rather unconventional way of traveling.
So I think I'll go buy some Nivea moisturizer for nostalgia's sake;  I want to experience the poignancy once more.  And if it makes my complexion look like Kate's, all the better.  Now that we know Kate is using it, there will probably be a run on Nivea moisturizer at the stores – I hope they don't sell out!
~Marilyn Huttunen