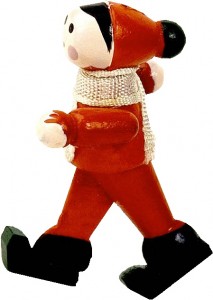 I really love taking walks around my neighborhood.  It's good exercise, I get fresh air, chat with my neighbors, and it's free!  No membership fees to a sweat-filled gym for me.  While I enjoyed walking,  it really wasn't necessarily meeting the workout requirements for me…or at least I wasn't feeling much benefit.  So when I first started hearing about the rolling rocker exercise walking shoes, my interest was piqued!  They looked big and clunky and were expensive, so that threw a wrench in my plans for awhile.
Well this all changed a few weeks ago when I found a pair of MBT (Masai Barefoot Technology) "antishoes" (as they call them).  They looked brand new, were in my size, and yes, they were at a second-hand store – hooray!   I was finally going to be able to try them without breaking the bank!  MBT's are based on a principle of natural instability, like walking barefoot on natural ground such as sand.  They are supposed to activate muscles, improve posture, and help the back.  Worth a try!
Trying them on for the first time, I felt like I was putting on Herman Munster boots!  They are definitely big and clunky – quite heavy too.  Walking around the house, they actually started to feel good.  Trying them on my walk was really fun.   Once I got into the rolling rhythm, I was chugging along or rather, gliding.  My posture improved greatly as you just naturally stand up much straighter wearing them.  I feel like a well-oiled walking machine in them.
When I took them off I had the same sensation I feel after I take roller or ice-skates off  – kind of like getting my land legs again.  I definitely felt muscles twinges (activating?) and more like I had a workout.  So I really think there is something to these shoes.  It has only been a couple weeks, but I'm feeling the benefits already and hope to reap more.  In fact, I already have my eye on the sandal antishoe…thinking ahead to those hot summer walks!
-Marilyn