My favorite form of exercise is just plain old walking around my neighborhood. Walking is fantastic for so many reasons – the main ones being that it's free, and you get a healthy dose of nature and fresh air in the process. It is also more 'organic' for lack of a better word. No driving to a health club to exercise in a dank place with a bunch of sweaty people. Ick. The last time I was at a health club was 1985, and I haven't missed it one bit.
I live on top of a hilly ridge and I've gradually been increasing my walking distances to explore new areas.  I had a tendency to walk the same 2 mile loop, but now that spring is in the air I've been a bit more adventurous. I found a new road that shows a glimpse of the Cascade mountains. I sometimes forget that I live on a hilltop because there are so many trees obscuring the view. If there were no trees here we'd all have incredible views, but I am glad there are still trees. Enough old growth forest has been cut down to make way for new development in the area, so I savor the ones that are left.
I am also a total cloud freak. Just take a look at my Instagram account – clouds, clouds, and more clouds. I delight in their fleeting beauty. So of course, I take my smart phone with me on my walks and snap away at clouds.  My neighbors think I'm nuts, but I don't care, "there she is, taking cloud pictures again…". If I post a cloud picture on Facebook, people are like, "what's with all the cloud pics?". Sigh. I guess only cloud lovers will understand.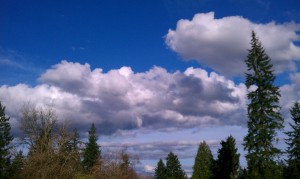 I will continue on, walking, cloud-gazing, and taking pics. It's good for the soul…well, at least my soul.  🙂
~Marilyn