In homage to my 40th high school reunion this year, I am taking another look back at the fashions of 1973. This time it is the festive Christmas version from the December 1973 issue of Seventeen magazine. By December 1973, I was a freshman in college and working part-time. Being the trend-conscious 18 year old that I was, you can be sure that I wore versions of all of these styles. And they are all really cool styles, I must admit. So here we go with the Holiday version of the Class of '73!
The Pantsuit: Holiday shopping was done in style wearing "pantsets" (that's what Seventeen called them) and separates. Plaid was big, and so were the pants. Wide-legged and cuffed, always with a matching jacket. I wore quite a few pantsets – mostly Betsey Johnson – Alley Cat designs sewn by my mom. It was a snappy look!
The Maxi Skirt and Puff-Sleeved Sweater: Singing around the Christmas tree in your patchwork/denim maxi skirt and puff-sleeved sweater top! Yes, I rocked this look too. I remember I had a long blue maxi skirt similar to the one in the picture. I wore it a lot, but I always found it vaguely annoying to maneuver in a long skirt. After years of wearing mini skirts, all that fabric just got in the way. It's a classy look though, in a casual way.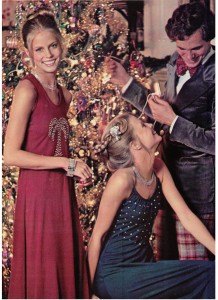 The Rhinestone-Studded Slinky Long Dress: Sleek knits were big in the '70s, and these floor-length dresses were studded with rhinestone designs. I don't remember wearing these type dresses at Christmastime in Seattle; I am certain I would have froze to death! But it is a great look. Extra points for the dapper young man in the velvet blazer, bow tie, and plaid pants. Way cool.
Countryish Tops and Ankle-Sweep Skirts (and braids): The country/folk/peasant look was making its way to the fashion scene. Long corduroy skirts, floral cotton dresses started appearing. And the hair BRAID – how cool is that? So 2013! I love the blouse on the left – definitely something that I would have worn, and would wear today.
Cozy Loungers: Lounge wear was hip in 1973. And no, not something that you would wear out to a lounge. Not really nightgowns, but rather long maxi dresses that you would wear at home. They were really quite pretty and stylish…a look much better than leggings or sweatpants I dare say. Hey, we were stylin' in 1973!
To a Vintage Holiday Season! ~ Marilyn