Perusing through my old August 1971 issue of Seventeen magazine, I found a Betsey Johnson goldmine! Betsey started out as a "funky kid" designer at Paraphernalia , then joined Alley Cat in 1970. She turned out one smash-hit collection after another for Alley Cat, as well as being part owner of the New York boutique, Betsey, Bunky & Nini. In any event, Betsey's designs were whimsical, fun, bright, and meant for personal expression. Needless to say, Betsey Johnson was one of my favorite designers of the 1970s. My mom sewed me many an outfit from the Betsey Johnson of Alley Cat "Young Designer" sewing patterns from Butterick. I always loved wearing Betsey's designs – I felt kicky and happy!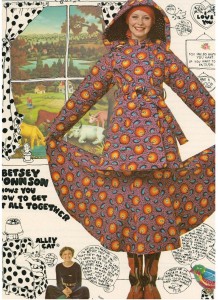 Brightly colored flannel from Turkey made into a squarish super warm wrap jacket and big flare skirt. Pakistani boots. So FAB! I always loved Betsey's little drawings and sayings that decorated her ads.
Big red corduroy Be Bop pants and even little shoulder pads in the shirt, saddle shoes. Fake fur Super Chubby and hat, with patterned stockings and embroidered shoes.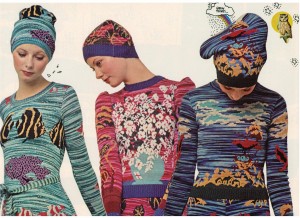 Wool patterned sweaters and hats in bird, fish, and floral designs. These are super cool!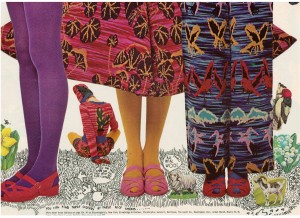 Wool patterned skirt and pants, Colored tights, and strappy shoes.
Rosebud patterned corduroy super puffy "Wizard of Oz" coat, little jacket and straight skirt. Diamond underwear underneath it all.
Baby flannel nightgown dress and jacket, worn with good old cowboy boots. And Betsey with her trademark braids wrapped around her head!
A very cute ad for Alley Cat and Wool by Betsey Johnson. I loved how she would draw it so you could use them as paper dolls.
Über cool Betsey Johnson design for Alley Cat: a jacquard knit dress with a flock of bright birds. It sold for $48 in 1971.
As Betsey says, "Wishing you all happy days and nights." 😀 ~Marilyn