I've been dabbling in making my own laundry detergent for about a year now, but I think I've finally hit on the right 'recipe' for me.  I've previously made both the powdered and liquid version using Fels Naptha soap, and was generally pleased with the results.  Truth be told, the liquid version was really quite messy to make and to have sitting around, so I decided to stick with the powdered version.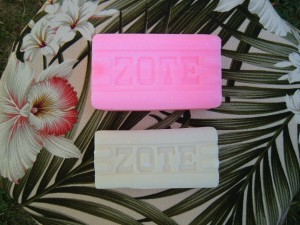 I had been reading about making detergent with Zote soap.  It seemed to be the Holy Grail of soaps; I could not find it anywhere.  But I happened to stop in at Big Lots one day just to look around, and THERE IT WAS!  The huge pink bars of Zote were just 90 cents.  The bars weigh over 14 oz. and smell heavenly (a very clean, citrusy, sweet scent).  Plus I love the pink color – so happy!
Since the Zote Bar is so huge, I was having a hard time converting it to the Fels Naptha recipe.  I happened upon the 2:1:1 formula of Zote: Borax: Super Washing Soda.  I tried this and voila, perfection (in my book)!  Here goes:  grate a bar of Zote soap (I use a cheese grater dedicated to soap-grating).  The grated Zote is equal to about 6 cups, so using the 2:1:1 formula, add 3 cups of Borax (I use 20 Mule Team), and 3 cups of Super Washing Soda (I use Arm & Hammer).  Mix it all together in a large container, and store covered.  Simple.
I use anywhere between 2 Tablespoons and 1/4 cup per load, depending on how dirty the laundry is.  It will get your laundry super-duper clean!  Plus, I absolutely love the scent of this; it's addicting.  I air-dry all my laundry, which adds to the clean experience.
Update: I made a YouTube video on how to make this detergent. You can view it here: How To Make Homemade Laundry Detergent With Zote Soap
Happy Washing! ~ Marilyn