Yardley of London – any fashionista who lived in the late '60s/early '70s will remember their fab advertising campaigns; I know I do!  My blog post on vintage bar soap spurred Yardley of London, oh wait, now it seems to be just "Yardley London" to send me an assortment of their bar soaps to try (more on this later).  This inspired me to look through my collection of  late '60s/early '70s Seventeen magazines, knowing that I would find some great examples of the vintage Yardley of London ads that intrigued me so.
Who co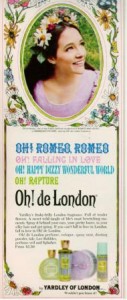 uld resist the beautiful English actress, Olivia Hussey, who played Juliet in the film "Romeo and Juliet"?  She was featured in a flowery romantic ad for Oh! de London fragrance in 1968.  "Oh! Romeo, Romeo, Oh! Falling in Love, Oh! Happy Dizzy Wonderful World, Oh! Rapture".  Just incredibly effective advertising I'm sure, given the smashing success of the movie.  It was the "Twilight" of the day.
Another ad from 1969 featured the impossibly gorgeous (English, of course) model, Jean Shrimpton.  Dressed in country Victorian attire, in pigtails (?!) Jean glowingly hawked the Country Treats soap/skin care line.  "Remember the way girls used to be?  Innocent…shy…They smiled a lot and their skin had a pure glow, fresh as rainwater…the soft fresh country clean,
men dream about…the clean that's really beautiful…the way girls used to be…the way YOU can be now."   Wow – makes me want to go scrub my face right now if I want to look like Jean Shrimpton!
Anyhoo, back to the soap.  As I've said before, I love vintage bar soap, so I was eager to try the current Yardley soaps.  They have a new natural soap collection which is fabulous, combining the great features of traditional bar soap with natural vegetable-based ingredients.  They have the gently cleaning and softly scented features I love.  I also got to try, once again, their traditional English Lavender soap which they have been making since the 17th century (now that's vintage)!  It has the very poignant, familiar scent that is so lovely.  It is nice to know that vintage-type bar soap is still being made, and I don't necessarily have to hunt it down in estate sales!
It was good to be reminded of fond vintage memories of a great product.  Yardley may not have the splashy ad campaigns of the past, but it's nice to know that they are continuing the tradition of creating fine luxury soaps in this day and age!
~Marilyn